Frequently Asked Questions
Being a new student can be a very scary but exciting time. Often one will ask themselves question about the new environment. Listed below are different questions and answers that many students ask themselves. This list will hopefully help you feel more comfortable with your decision to join the Conestoga College community, as well as, assist current students.
Campus Specific Questions
Where is the Gender Neutral Washroom on campus?
The gender neutral washroom is located in room 2A118B in the Student Life Centre near the Sanctuary.

Is there a Gay-Straight Alliance at Conestoga?
Yes! We proudly have the Conestoga Gay-Straight Alliance, which is a campus club through Conestoga Students Inc. To get more information please check out the CSI Students Club page or visit them on Facebook at Conestoga Gay Straight Alliance.
What supports are available on campus?
Conestoga has a variety of supports available to all students. There are several study areas located throughout the college. There are also a variety of social areas for students to interact. To learn more about specific services for GLBTQ students check out the How We Support You tab.
What is the community like?

For those new to post-secondary education, any college or university environment can be an intimidating experience. Conestoga College is a positive, respectful, and welcoming environment. We also have our praised Respect Campaign which helps to promote acceptance, understanding, and respect for all.
Are there any special events regarding GLBTQ issues or social events?
Most GLBTQ events are run through Conestoga Pride. Check out the CSI Events Calendar on their website for more information. To learn about events happening in Waterloo Region go to the Community Links tab.
Are there any ways I can get involved on Campus?
Yes! There are many different ways to connect yourself with Conestoga College. Many different services offer paid and voluntary positions for all students. Check out the Get Involved page through the Student Life Website.
Where do I go if I have a problem?
The Respect Campaign provides a listing of College Policies that you can refer to if there is an issue or concern.
If you have any concerns regarding bullying or discrimination, Security Services is always open to all students. Conestoga takes such matters very seriously. Conestoga has a Human Rights Policy that all students must adhere to on campus.
If you ever experience a problem with any service at Conestoga, we encourage you to inform someone of the problem. We want to make your experience a positive one. We can only improve with your help.
What if someone doesn't understand me or what I am going though?
Often when a person is going through a situation that another person is not familiar with it can be difficult for them to understand. Being patient with others who may not understand or feel comfortable can be a beneficial strategy. It may also be helpful to talk to friends, family, or a counsellor about your situation.
General GLBTQ Questions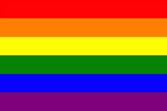 What does the Pride Flag mean?
The flag started in San Francisco in 1978 by artists Gilbert Baker. At the time the flag was known as "the freedom flag," and had 8 colours. Currently, the most used Pride rainbow has 6 main colours. Each colour has a specific purpose and meaning. Red stands for life, orange stands for healing, yellow stands for the sun, green stands for nature, blue stands for harmony, and purple represents the soul. Some rainbows may have more colours but they all represent the same purpose.
What if I am unsure of my sexual orientation?
Being unsure of your sexual orientation or gender identity is a very common stage in people's lives. During this questioning period it is important that you do not feel pressured by others to be a certain way. Connecting yourself with those who will be supportive of you during this time is very important so that you may be able to explore your thoughts, feelings, and emotions. There is no specific way to help you to discover your sexual orientation or gender identity. Each person discovers this at their own time and what ever your decision may be, make sure it is fully your decision.
If you want to talk to someone regarding your sexual orientation or gender identity, Counselling Services provides support for all students. Conestoga Pride is also a supportive and safe environment for you to express you feelings, concerns, and to receive support from other students.
If you would like to add more Q&A, report broken links, add material, or comment, please contact Laura Black, Student Life Programmer.