For Community Organizations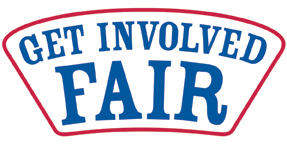 We are Glad to Have You Join Us!
We welcome new organizations, clubs and on-campus areas to join us for future Get Involved Fairs.
The Get Involved Fair is held within the first month of classes for students in the fall and winter semesters (i.e. September and January). We host the fair for one day at Cambridge, Guelph, Waterloo, and Doon campus during the same week, beginning late morning and ending early afternoon.
For Get Involved Fair inquiries, feel free to contact Laura Black at Lblack@conestogac.on.ca or (519) 748-5220 ext. 2373.
External Community Partners
We are proud to have such a wide range of diverse community service organizations and agencies that join us at the fair each semester. More than 50 community organizations have participated, including:
AIDS Committee (ACCKWA)
Alzheimer Society of K-W
Big Brother/Big Sisters
Best Buddies
Canadian Blood Services
Canadian Breast Cancer Foundation
Canadian Cancer Society
Canadian Diabetes Association
Canadian Mental Health Association
Child Witness of Waterloo Region
Christian Horizons
City of Kitchener
CNIB
Extend-A-Family
Family and Children's Services
Food Bank of Waterloo Region
Grand River Hospital
Grand Valley Trails
Habitat for Humanity
Heart & Stroke Foundation
Homer Watson House & Gallery
Independent Living
Juvenile Diabetes
KidsAbility
KidsLink
Kitchener Public Library
Leave the Pack Behind
Learning Disabilities Association of K-W Lutherwood
Meals on Wheels
MS Society
National Service Dogs
Nutrition for Learning
Planned Parenthood
Ray of Hope
Red Cross
K-W Right to Life
Saint Monica House
Sexual Assault Support Centre of Waterloo Region
St. John Ambulance
Sun Beam Centre
United Way
Volunteer Action Centre
Women's Crisis Services of Waterloo Region
YMCA
Hear from our past participants
"KidsAbiltiy truly values the opportunity to attend, and participate in, the Conestoga College Get Involved Fairs. I believe it is beneficial to Conestoga students to learn more about the community they live in, connect and network with organizations, expand their knowledge in the curriculum-based programs they are involved with and to give them an outlet from the stress of their scholastic demands.
Students bring a sincere enthusiasm and genuine interest in contributing to, and learning from, their placements at KidsAbility, as well as providing a strong commitment, knowledge and experience to each placement. KidsAbility sincerely appreciates and benefits from the contributions of Conestoga College and a vast array of the curriculum programs offered, Eg. Early Childhood Education, Educational Assistant, Behavioural Science, OT/PT Aides, Pre-Service Firefighter Education and Training, etc. Students improve the educational and therapeutic environment at KidsAbility.
We look forward to continuing our partnership with Conestoga College and invite students to consider a placement at our Cambridge, Kitchener, Guelph or Waterloo sites."
-Annie Crump
Volunteer & Resource Services Coordinator
KidsAbility Centre for Child Development
The AIDS Committee of Cambridge, Kitchener, Waterloo & Area (ACCKWA) has participated in many Get Involved Fairs at Conestoga College. One of the main reasons we take part in this event is to recruit students to take part in Stuff Your Condom, an awareness event we focus on during November and December. This event is fun and easy for the students (all tasks can be done from their residence) and then on campus distribution of the packages that they created provide students with information and awareness of HIV in Waterloo Region and safer sex supplies too! ACCKWA enjoys a solid partnership with many students and faculty at Conestoga College, a relationship that benefits both, on campus and in our agency. Ongoing participation ensures that the students become familiar with ACCKWA and the work that we do. Student life can be hectic and often leaves a student without the chance for much community involvement. These youth are our future and we must provide opportunities for them to be engaged and experience what will soon be their reality! We believe the Get Involved Fairs at Conestoga College can respond to these needs and provide many other agencies the energy and fresh outlook of these students.
-Lynn Cashubec
Director of Operations
ACCKWA (AIDS Committee of Cambridge, Kitchener, Waterloo & Area)
The Get Involved Fair provides an opportunity for students to meet SASC staff and volunteers and ask questions about our agency's services, student field placement and volunteer opportunities. Conestoga College students bring not only knowledge, but a practical skill base that allows them to quickly engage in the work at our agency. We LOVE having Conestoga College students at SASC! In return, we believe we offer a unique opportunity to be part of a modified collective, where volunteers are part of the decision-making of the agency. We are also told that we offer students invaluable training and support!
Joan Tuchlinsky
Public Education Manager
Sexual Assault Support Centre of Waterloo Region (SASC)