English Conversation Partners
The partnership between an English Language Learner (ELL) Conestoga student and a fluent English-speaking Conestoga student is a beneficial and rewarding experience. English Conversation Partner (ECP) matches meet on campus weekly to discuss a variety of topics and learn about one another. This connection allows for a positive social experience and the opportunity for mutual learning and sharing. Students involved in ECP get to learn about other cultures and languages, develop communication and leadership skills, and share their experiences in Canada and at Conestoga. Students are encouraged to apply to this excellent opportunity for personal and professional growth.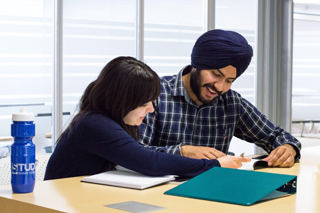 All English Language Learners are also invited to attend weekly Conversation Circles. These Conversation Circles are great opportunities for ELLs to further practice English language skills, connect with other Conestoga students and gain familiarity with Canadian culture.
ECP also offers the Meet your Match event every semester. This event allows conversation partners to meet each other for the first time in a comfortable and fun environment. This event combines all of the fun social aspects of the program and is a chance to meet others involved in ECP. Below are photos from our Fall 2015 event.