The Polytechnic Advantage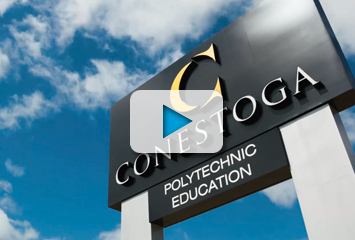 Built on a strong foundation of partnership, collaboration and integration, Conestoga is a leader in polytechnic education, committed to meeting the needs of learners, businesses and our community. Career-focused education programs are developed with industry and community partners to meet today's labour force needs. All programs feature active, hands-on learning that prepares Conestoga graduates for career and life success. Applied research activities help local businesses and community partners innovate, improve their products and processes, and become more competitive. These partnerships contribute to a stronger economy and more opportunities for students and graduates.
Here you'll find:
Career-focused degrees, diplomas, apprenticeships
Conestoga's broad range of education and training options includes graduate certificates, 4-year degrees, diplomas, apprenticeships and corporate training. Developed in partnership with industry and community leaders, our programs reflect Ontario's changing job market and provide students with many hands-on opportunities to build the skills and knowledge that today's employers are seeking. Close to 90 per cent of last year's Conestoga graduates found employment within six months of graduation: that exceeds the graduate employment rate of any other college in southwestern Ontario and the Greater Toronto and Hamilton Area.
Active learning
Real-life learning led by professors who are both academics and professionals in their fields provides Conestoga's students with opportunities to gain the practical experience that leads to career success. Labs equipped with the latest technology, project-based courses, field and clinical experiences, applied research and co-op opportunities engage students as they connect theory, research and practice. Our focus on technology-enhanced learning through online and mobile technologies ensures that students are prepared to excel in our increasingly digital world. Conestoga's commitment to student success includes a full range of support and career advising services available to students throughout their learning journey.
Access and pathways
Multiple entry points ensure that individuals across our community can access the education they need for their chosen careers. Upgrading and preparatory programs provide opportunities to brush up on skills or develop essential background knowledge in a chosen field, and prior learning is recognized, so students can forge a straight path to success whatever their starting point. Established partnerships with post-secondary institutions across Canada and around the world provide multiple opportunities for international and graduate studies.
Community partnerships & applied research
Conestoga's strong connections with industry and the communities we serve contribute to student learning experiences as they help create more competitive businesses, a stronger economy, and more opportunities for students and graduates. More than 800 business and community leaders now serve on the Program Advisory Committees that ensure our programs stay relevant and meet evolving industry needs. Applied research initiatives lead to innovation in education and provide solutions to real-world industry challenges, supporting local business, industry and institutions in their efforts to innovate and improve their products and processes.
As a member institution of Polytechnics Canada, Conestoga is proud to work with our industry and community partners to propel business innovation and create jobs for tomorrow. Find out more