Conestoga ONE Card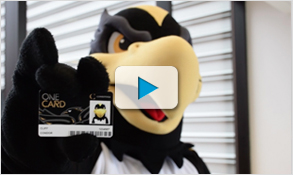 The Conestoga ONE Card is the official identification card for all daytime students and employees. The card is designed to keep campus life simple by offering an all-in-one solution to accessing eligible on-campus services and purchasing.
Check out the list of places below where you can use your ONE Card and be eligible for Condor Perks!
September iPad Contest
Load your ONE Card with $500 or more and you'll automatically be entered in a contest to win 1 of 3 iPads. Contest ends September 30, 2017.

Where can I use my ONE Card?
Off-Campus Locations
Gino's Pizza – 601 Doon Village Road, Kitchener 519-748-4484 (Cardholder and ONE Card must be present at delivery)
Johnny Fresco – 244 Weber Street North, Waterloo
McDonalds – 2410 Homer Watson Blvd., Kitchener (In store, at counter)
Pizza Pizza – 123 Pioneer Drive, Kitchener 519-747-1111 (Cardholder and ONE Card must be present at delivery)

Doon (Kitchener) Campus Locations

Bookstore
Canteen Vending
Chartwells (On the Go, Grill & Co, Starbucks, Bento Sushi)
Conestoga Students Inc. Service Hub
Conestoga Students Inc. Wellness (Chiropractic, Massage)
Library
M & T Print
Parking
Pita Pit
Pizza Pizza
Smokes Poutinerie
Subway
The Venue
Tim Hortons
Cambridge Campus Locations
Bookstore
Chartwells (Tim Hortons, Grill & Co)
Conestoga Students Inc. Service Hub
Pizza Pizza
Subway
Guelph Campus Locations
Bookstore
Chartwells
Waterloo Campus Locations
Bookstore
Chartwells
Conestoga Students Inc. Service Hub