Welcome to the Craig Richardson Institute of Food Processing Technology
Unlike any facility in Canada, the Institute of Food Processing Technology (IFPT) meets the needs of the food and beverage manufacturing industry by providing education, training, research and technical expertise.
We develop multi-skilled graduates with leadership and plant-floor expertise, and partner with the food and beverage manufacturing industry to achieve technological solutions.

Our Facilities
Pilot Plant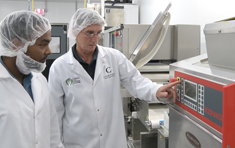 In collaboration with professional food plant design engineers, the Pilot Plant was designed to meet the food processing industry's need for increased competitiveness. The Pilot Plant is the result of a $5M investment providing students the opportunity to operate industry equipment on three complete production lines: bakery, fresh vegetables and beverage.
We understand the importance teamwork has on an operation's productivity and know that it is important for our students to have the same level of understanding. At the same time, we know that all plant floor personnel, regardless of their specific task, play a very important role in a plant's operation. Our goal is to provide the industry with graduates that have a strong understanding of these different roles.
We achieve this goal through delivering comprehensive, well-rounded programs to our students. The Pilot Plant provides the opportunity to learn about key manufacturing factors while training to operate the equipment of our bakery, fresh vegetables and beverage production lines. As part of our program, we address key topics such as line efficiency, productivity, QA/QC, preventative maintenance, lean manufacturing, and waste management. Our graduates come out of school ready to take on challenging jobs and to act as catalysts for productivity in the food processing industry!
Read about the Pilot Plant [+]
Food Testing Laboratory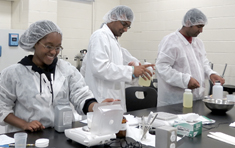 Experiential learning is the most important component of the education process we conduct at Conestoga's IFPT, and the Food Testing Laboratory was designed and built with this specific scope in mind.
The types of activities we conduct in the Food Testing Laboratory at the IFPT mirror the general tasks that any food processing company with internal quality control processes would conduct. Students learn about physical properties of ingredients and raw materials, such as pH, viscosity, texture and more.
Chemical properties of ingredients, raw materials and finished food products can also be evaluated in the IFPT Food Testing Laboratory, including sugar and salt concentration analysis, moisture determination and various titration techniques.
Programs & Courses
Courses
Course #
Courses
Length (Hours)
Distance
Status
OLRN1835
Coaching and Developing People

Description: The coaching and developing of people, in order to encourage their highest performance and ongoing learning, is a crucial component in today's work world. The roles of a coach and a facilitator require new skills to enhance the capabilities of their employees and to bring the best possible 'climate' to the workplace. The skills of communication, coaching, delegation, motivation and dealing with conflict will be developed, together with an understanding of adult learning.
Hours: 30
Credits: 2
Pre-Requisites:
CoRequisites:

30
Yes
Details
OLRN1025
Continuous Improvement Process

Description: On completion of this course, participants will have available a wide range of tools and techniques for the practical application of Continuous Improvement in their workplace. The material will cover the standard approaches in the quality movement; (e.g. 6-sigma, TQM), plus the shift to Lean Manufacturing and the ramifications to cost, inventory and scheduling. Project management will be introduced and the participants will undertake their own work-related project.
Hours: 30
Credits: 2
Pre-Requisites:
CoRequisites:

30
Yes
Details
OLRN1345
Developing Effective Teams

Description: This course will provide the knowledge of how people in teams function and how teams evolve. Students will develop both the understanding of their own strengths and weaknesses, and the skills for team building and facilitating your group. Particular attention will be paid to the questions of when to use a team, how to manage meetings and how to conduct group problem solving sessions.
Hours: 30
Credits: 2
Pre-Requisites:
CoRequisites:

30
Yes
Details
FOOD1335
Effective Cleaning & Sanitation - Theory and Applications

Description: This course will give students in-depth knowledge of effective Cleaning and Sanitation in the food processing industry. Specific methods of treatment and elimination, main causes of environmental cleanliness failure, specific agents and the science base for choosing the most effective ways to perform and evaluate cleanliness, will be presented. Methods of detection and correction will be explored from a theoretical and practical point of view. Students will perform testing of cleaning agents, practice cleaning and sanitation tasks and assess the efficacy of cleaning and sanitation procedures by on-site visual inspections, microbiological and ATP testing, on actual food manufacturing lines. Students will create a Master Cleaning Schedule and SSOP's.
Hours: 18
Credits: 1
Pre-Requisites:
CoRequisites:

18
Details
FOOD1075
Food Processing Basics

Description: This course will give students an introduction to the Food and Beverage Processing Industry, and also cover principles of food science and food composition and basic processing methods. Students will be introduced to food processing equipment.
Hours: 15
Credits: 1
Pre-Requisites:
CoRequisites:

15
Yes
Details
OHS1120
Occupational Health and Safety for the Food Processing Industry - Condensed

Description: This course will address the need identified in the food processing industry for increased awareness to hazardous situations and the resulting reduction of workplace injuries and accidents. Upon completion of this course, students will have an understanding of the obligations, rights and responsibilities of employees, supervisors/managers and employers and how to effect change in their future workplaces toward Health and Safety regulatory compliance. The students will navigate the legislative framework specific to health and safety in the food manufacturing industry and incorporate techniques to address hazard recognition and potential for accidents. Students will be able to respond to and record the legal, economical, technical, and personal dimensions associated with hazard awareness in the food processing industry.
Hours: 15
Credits: 1
Pre-Requisites:
CoRequisites:

15
Yes
Details
Innovation Project

As part of an ever increasing need by industry to remain competitive in the global market, the Institute of Food Processing Technology (IFPT) at Conestoga conducted a project in 2012 themed Advancing Innovation in the Food Processing Industry, funded by the Ontario Ministry of Agriculture, Food and Rural Affairs.
Main project objectives included:
Understanding the innovation mechanisms currently in place in the industry
Developing a gap analysis that would identify what is needed (e.g. technical resources, funding) to encourage industry (in Ontario) to adopt an increased level of innovation
Deliver a workshop to industry, government and academia, that will explain how a system of open innovation works and how a model food cluster (Food Valley) encourages such a system
Awards
There are many scholarships, bursaries, and entrance awards available to students studying at the IFPT at Conestoga. Visit the School of Engineering & Information Technology awards directory to learn more.