E3 Conference
The E3 Conference is scheduled this year from Monday, June 13 through Thursday, June 16. There will be two exciting keynote speakers on Monday and Thursday and a variety of interesting workshops throughout the week.
2016 E3 Conference
Opening Keynote
Monday, June 13, 2016
1:30 p.m. – 2:30 p.m.
Blue Room, Doon Campus
Register for PDEV0290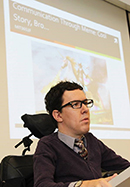 Jeffrey Preston
I'm Gonna Disable Your Child: Rethinking Disability & Education
With tongue placed firmly in cheek, this presentation explores the ways we linguistically and figuratively isolate "the disabled" within our community and demands we infect everyone in our community with 'disability.' Through stories of personal experiences growing up with a disability, "I'm Gonna Disable Your Child" considers the lessons we can learn from disability and why it is important we embrace our own disabilities both within and outside the classroom.
Throughout his life, Jeff Preston has passionately advocated for the needs of himself and others with disabilities hoping to live an independent and barrier-free life. Jeff has completed a Masters and Doctorate in Media Studies at Western University, where he wrote researched representation of loss and limitation in popular culture. Jeff is currently a professor of digital and non-profit marketing in the Lawrence Kinlin School of Business at Fanshawe College.
Closing Keynote
Thursday, June 16, 2016
10:30 a.m. – 11:30 a.m.
Blue Room, Doon Campus
Register for PDEV0660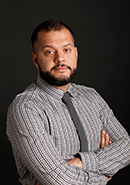 Jesse Brown
The Next Canada
What does the future hold for this country? Are Canada's institutions and economy at odds with rapid technological change? Are we keeping up? From business to government to education, disruption is coming. Jesse Brown draws on his experiences in technology and media to present this fast-paced and thought-provoking keynote about the exciting and challenging shifts ahead, and how to stay on top of them.
Journalist Jesse Brown runs Canadaland, the crowd-funded news site that has disrupted the way the Canadian media works. He pioneered a new business model for news while uncovering scandals at the CBC, the Globe and Mail, and in government. His hit podcast has become a destination for guests like Margaret Atwood, Jay Baruchel, and Chantal Hebert. Jesse launched his career at CBC Radio, creating and hosting two national programs. He has contributed to such publications as The Guardian, The Toronto Star, and VICE, and his commentary has been broadcast on the BBC and on NPR. He has won the National Magazine Award for Humour and the Hillman Prize for Investigative Reporting. Jesse is also a co-founder of Bitstrips, makers of Bitmoji, a cartooning app used by millions.