Preparatory Programs & Academic Upgrading
Academic Upgrading provides upgrading for school, work and everyday life. Our Academic Upgrading programs will allow you to:
apply to college without your grade 12 diploma.
improve your written and verbal communication skills.
update your math, physics, biology and chemistry knowledge and skills.
earn your Academic and Career Entrance (ACE) Certificate.
improve your workplace "Essential Skills".
You can also prepare for:
a college post-secondary program.
apprenticeship training.
writing the GED test (high school equivalency certificate).
employment.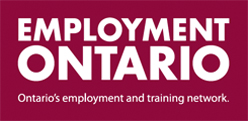 This Employment Ontario program is funded in part by the Government of Canada and the Government of Ontario and through the Canada-Ontario job Fund Agreement.